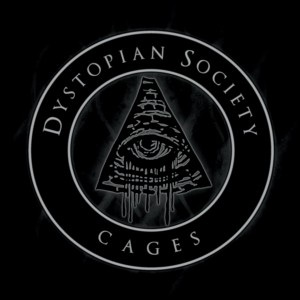 Ok, it's true, we haven't been too busy since we last brought the dystopian scoiety guys over, nearly a year and some such days ago.  We've also owed you guys a relative upload, so this is the" cages" LP, along with their friends' tanzkommando untergang demo, dating back to 2011. A double tape/upload like the old days!
Cages is a great modern concept/ 80's sounding deathrock album. It twists and turns , while keeping you firmly in its gloomy, sinister punk grasp. The guitar work is over 9000, and there are both male & female vocals. Better people than me have reviewed this album, i just suggest you give it a listen, it rewards you. I listen to them when i stay at home, realizing that there is nothing out there worth to go out to, when my mood is shit and the world has thoroughly disappointed me with what it ended up to be. They keep me company. Also when i want to dance & smash stuff. (People with a budget, go see them play at unpleasant meeting, 9 may @ paris. This festival is too crazy!)
Tanzkommando Untergang are better experienced live. A true punk band, fem vox and really speedy (if they had drops and pauses they could be resembling to belgrado, but it's much more amebix than action pact). The gloominess factor is here but not overwhelming, the demo is not mastered so it's very raw. The band is very much in the squat/diy german scene, and i hope they keep playing and give us a great sounding finished  LP sometime. +++ gotta love the cowbell! A great b-side for a tape combo you could play before going out to a kalashnikov*or insert favorite diy band here*  live set…
It's not the fires we start they should be worrying about, but the fires burning within us…
MP3 320Kbps
Dystopian Society – Cages (2011)
01 Echoes Of Disaster
02 Last Crusade
03 No Hope
04 Antisocial
05 The Legacy Of Wars
06 Death Signals
07 Dystopian Society
08 Heretic
09 The City With No Name
10 Masquerade
11 The Spiral
12 Time Has Come
Tanzkommando Untergang – Demo (2011)
01 1943 (Ghetto)
02 The Walk
03 Dr Guillotine
04 Pictures From The Past
05 Broken Mirror
06 Let Rome Burn
07 Pogo Disaster
http://ulozto.net/xvQEQnAq/tanzkommando-dystopian-rar
 https://www.mediafire.com/?84nn8o86vzo27oo
http://tanzkommandountergang.bandcamp.com/
http://dystopiansociety.bandcamp.com/
ps.