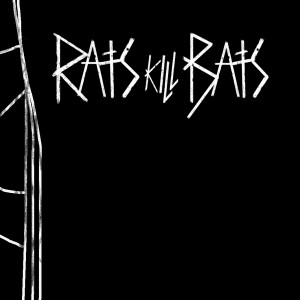 Ok. It's on. The review for Budapest-hungary's first deathrock band. Well this is what they say about themselves:
"Years ago at the Black Noise festival we talked about forming a new band. The idea was to form Hungary's first deathrock band and to give a fresh sound in the scene. Finally in 2014, one gloomy night we formed Rats Kill Bats.
Although the members have different musical backgrounds; we merged our taste into something which is now can be described as deathrockish punk, or deathpunk."
And well, fresh sounding they are indeed! Female vocals appear to be reappearing in the genre (masquerade,arctic flowers, moral hex, belgrado/sect….) which is a good thing. The way the voice sticks in your brain after the record is over reminds me of a younger version of eveghost in scarlet's remains-now christ vs warhol. The music seems to tend towards the 80s punk movement than the 90s goth or 2000's deathrock, tracks are bpm intense,desperate sounding and not a synth in sight:). The production value is crystal clear-not always the best choice for non native english speaker punk bands, but they make it work due to their solid bass and guitar. The EP is actually pretty short-the catchy songs never tire you and it all sorts of blend to each other, leaving you craving for more. More but witnessed live, black clad, dripping with 1st row sweat and stinking of fog machine fuel. Still one can only dream.
mp3 320kpbs
01 I don't care
02 Asylum
03 Into the woods
04 Commercial God
 https://ratskillbats.bandcamp.com/releases