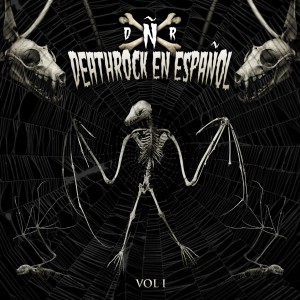 Hell, citizens ,this blog does in times come off a strong advocate for deathrock and punk in languages other than english. Lemme tell you right here, that was not our intention in the first place or a mission stated in a dark corner of some "about" section. But we've never taken ourselves as great authorities, or critics people who will in nice words present to you music you will never be able to find yourself, we're just here to tell you about the great record we just found in our inbox-library. We've never taken ourelves for anything other than your average person in love with the sound. And granted, english speaking or american deathrock will always find a home in some other blog, someone's gotta talk for the underdogs right?
Not that the music here's any short of little diamonds… how could it be? This great and FREE compilation spans content that's been around roughly 10 years plus new deathrock from 2014, so it's hand picked with only greatness inside. Past favorites include naughty zombies, eyeculacion, la voz…, for the occasional-"yeah i've heard this somewhere this song, it rocks" but what actually shines here is the new bands. I love the intro from "fando y lis" in dentro , i love condenados ever since it was featured in alien pagan;s "zoundbies" thingy,  la "carta…." really bring out the 80s feel in this compilation, "el hombre de la bolsa" really fucks me up when it eventually breaks out, the horrorcore is strong with buitres & brujas , jester's carny attempts at creeping cinema strange and every other person out and there is evenstuff for some Metal guys here. Damn i can go on, because each and every song here is an A-side single from the bands' dicographies and this compilation is here to dig them up and hit us with their gravestones till we all get along just fine. ?Entiende?
If you really have to listen to just one or two tracks, go for buscando suenos- what a nice intro right there, la chica del puente (the solo project from the vocalist of carniceros, this track has been known to have the same effect on people as bowie), or acid bat's criaturas (where are these guys?) giving lessons on song structure. Yep, leave molly nilsson alone for a minute, and give this a try, she aint gonna be hoping that you die any moar you know.
Thank you, gothic BA records. This compilation was excellent. God dammit i really want to be in argentina right now.
The Label – El Sello
01. 11 Desaparecidos – O.M.S.
02. Mekrokiev – Dentro
03. Los Carniceros del Norte – El Carnaval de las Almas
04. La Peste Negra – Miedo
05. Gorgonas – Olvido
06. Hasta la Muerte – Zombisexuales
07. Acid Bats – Criaturas
08. Eyaculación Post Mortem – Viva la Muerte
09. Espectros – El Hombre de la Bolsa (ensayo)
10. Hemoglobina – Turismo Sexual Vampírico
11. Dead Born Babies – La Hora Marcada
12. Carta desde el Psiquiátrico – Alienación (en vivo)
13. La Voz de tus Ausentes – Buscando Sueños
14. Naughty Zombies – Nuclear
15. Ultrastigma – Levantame de los Muertos
16. Electro Shock Therapy – EST (en vivo)
17. La Calle Morgue – La Frecuencia de las Aves
18. Kante Pinrélico – Corazón en Tinieblas
19. Txarly Usher – La chica del Puente
20. Alae Noctis – Fiesta en el Cementerio
21. Ectoplasmikos – San Simonia y San Mammon (demo)
22. La Morgue – Ataúd
23. Sinestësicos – Condenados
24. Jester La Juste – Luna Nueva
25. Buitres & Brujas – Nuestras Mentes estan Podridas
26. Frankenputa – ¡Me largo! Mi planeta me necesita
http://www.mediafire.com/download/512v9whekxjg5nf/deathrockenespanolvol1.rar
http://ulozto.net/xpPv8uPK/2014-deathrock-en-espanol-vol-i-rar
…somos los muertos vivientes….