This psychotic australian band tags themselves death disko, synth punk, electronic noise and they actually mean it (Cathartic spastic disco sludge gauranteed to block the sink and leave chunks floating on the surface.). They are true to the Atari Teenage Riot spirit, but in kind of an updated new mutant way. I love their crazy artworks (see also their EP mainsHum). They use the new digital music media , their synths, their drum patterns, everything, the way they are supposed to be used. This is waht they have to say about the rocky ep.
released 09 April 2012
"I'm nobodies sidekick, dont have to pretend, I wont suffer your mood swings : I will not accept my own weakness.
Cos Im bigger than Elvis, Arnie, Dolph Lungren , Steve Seagal.
Believe me – I'm Rocky 4, 2 and 3.
See I'm big in Spain, Italy and Japan: I'm bigger than Beckham and Jesus AND Bono.
Fuck yeah : I'm Rocky"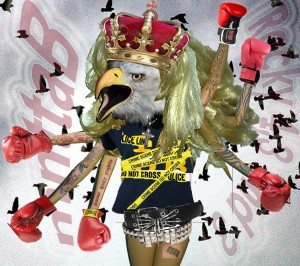 this is their fb
https://www.facebook.com/mnttaB
Make an effort to go to bandcamp and at least listen to their new stuff
"Welcome to the planet, dear", it is way crazier and darker. Good stuff!
Go on, make my day motherfuckers!
http://www.mediafire.com/download/0712szfpmlg3518/mnttaB+-+Rocky+4-2+and+3+EP.zip