To τεύχος 6 του μικρού μας ζειν "Νυχτερίδες & Κατσαριδες", πολύπαθο μεν, χυμαδιό δε είναι πλέον αλήθεια.Θυμίζουμε οτι η μουσική στήλη Raw tape και η κασέτα με τα προτεινόμενα τραγούδια της με θέμα το πολιτικό goth μπορεί να βρεθεί μερικά ποστ κάτω σ αυτο το blog. Δώστε επίσης σημασία στο εξαιρετικό κόμικ/illustration αφιέρωμα του μαύρου αίματος στον Phil Scars και την κραυγή του.
The 6th issue of "Bats & Roaches", our small zine- though troubled yet still oozing all over the place- is as of now a reality. Needless to remind you, the raw tape music column and it's mixtape of suggestions (on the aspect of political goth this time) can be found some posts below on this blog. Zoom especially   in blackblood's lovely comic/illustration on Phil Scars and his "Yell".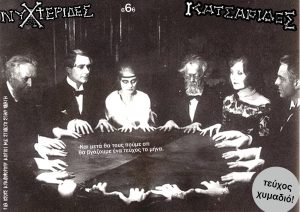 Κατεβάστε pdf απο εδώ,
https://ulozto.net/!XAU9VcyEA/bats-roaches-6-pdf
διαβάστε ονλαιν στο issuu εδώ-αν και η πλατφορμα τους μας γαμησε τη σελιδοποιηση για ανεξηγητους λογους
ή βρειτε μας για αντιτυπο χέρι χέρι και σχολια.
υγ.666 γιατι ολα πηγαν στραβα ρε γαμωτο